Hasta ahora nos hemos preguntado la forma de meter juegos a playstation classic, pues bien hemos encontrado un producto en Amazon, que se llama True Blue, del cual hay varios packs con diferentes juegos.
El producto no parece ser muy oficial, pero según los comentarios de los usuarios que lo han comprando anteriormente, parace que si cumple con lo que promete.
Ver True Blue mini Con 101 Juegos para Playstation Classic
¿De que forma se meten los juegos?
El sistema es muy sencillo, Consiste en un Pendrive con un adaptador USB para conectar varios USB y no perder el segundo mando.
¿Qué es True Blue mini?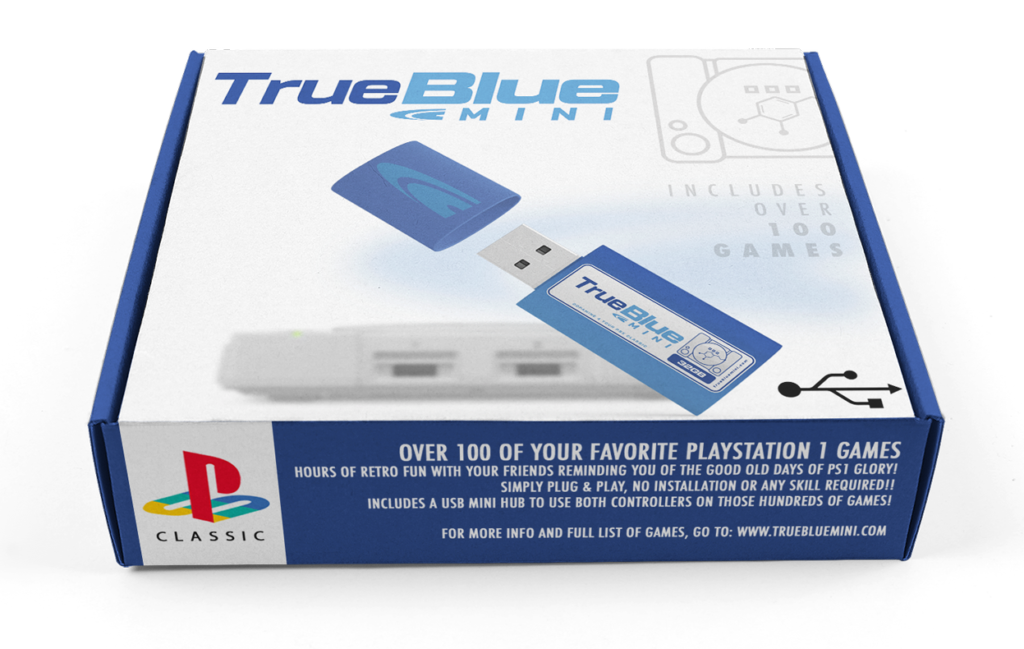 ¿Cuales son los juegos?
La lista de juegos de Playstation classic es de 20, que podéis ver en nuestra lista pero si queréis ampliarla aquí tenéis las opciones.
Los juegos dependen del Pack elegido, actualmente hemos encontrado 4 packs, Crackhead Pack, Fight Pack , Meth Pack, Weed Pack
Actualmente hay 4 packs disponibles:
IMPORTANTE: TODOS LOS JUEGOS SON EN INGLES
Crackhead Pack 101 juegos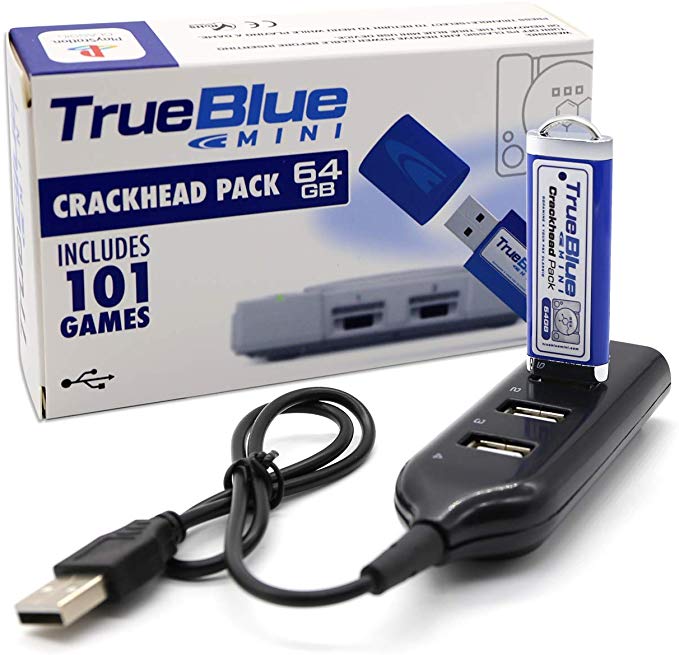 Este pack podemos agregar hasta 101 juegos adicionales todos los juegos clásicos que podemos añadir a nuestra Playstation Classic.
Esta es la lista
Alundra
Azure Dreams
Blood Omen – Legacy of Kain
Brave Fencer Musashi
Breath of Fire III
Breath of Fire IV
Bust-A-Move 2 – Arcade Edition
Castlevania Symphony of the Night
Circuit Breakers
Crash Bandicoot
Crash Bandicoot 2
Crash Team Racing
Croc 2
Diablo
Digimon World
Digimon World 2
Digimon World 3
Dino Crisis
Dino Crisis 2
Disruptor
Driver – You Are the Wheelman
Driver 2
Einhander
FIFA Soccer 2005
Final Fantasy – Origins
Final Fantasy IV
Final Fantasy Tactics
Final Fantasy V
Final Fantasy VI
Final Fantasy VIII
Gex
Gex – Enter the Gecko
Gex 3 – Deep cover Gecko
Gran Turismo
Gran Turismo 2 – Arcade Mode
Gran Turismo 2 – Simulation Mode
Harvest Moon – Back to Nature
Hogs of War
Hot Shots Golf
Hot Shots Golf 2
Klonoa – Door to Phantomile
Legacy of Kain – Soul Reaver
Legend of Legaia
Legend of Mana
Madden NFL 98
Medievil
Medievil II
Megaman Legends
Megaman X4
MLB 2000
NCAA March Madness 2001
Need for Speed – High Stakes
NFL Blitz
NHL Face Off
NHL Face Off 99
Oddworld – Abes Oddysee
Parappa the Rapper
Persona 2 – Eternal Punishment
Resident Evil
Resident Evil 2
Resident Evil 3 – Nemesis
Saga Frontier
Shanghai – True Valor
SimCity 2000
Simpsons Wrestling
Soul Blade
Spyro – Year of the Dragon
Spyro 2 – Riptos Rage
Spyro the Dragon
Street Fighter Alpha 3
Suikoden
Suikoden II
Syphon Filter
Syphon Filter 2
Tactics Ogre
Tales of Destiny
Tekken
Tekken 2
Tekken 3
Tenchu – Stealth Assassins
Tenchu 2
Tetris Plus
Tiger Woods 99 – PGA Tour Golf
Tomb Raider
Tomb Raider II
Tomb Raider III
Tomba!
Tomba! 2 – The Evil Swine Return
Tony Hawks Pro Skater
Tony Hawks Pro Skater 2
Twisted Metal 2
Vagrant Story
Vandal Hearts
Vandal Hearts II
WCW Nitro
Wild Arms 2
Wipeout
Wipeout 3
Wipeout XL
WWF Smackdown! 2
Xena – Warrior Princess
Fight Pack 58 Juegos
Este pack esta basado todo en juegos de lucha.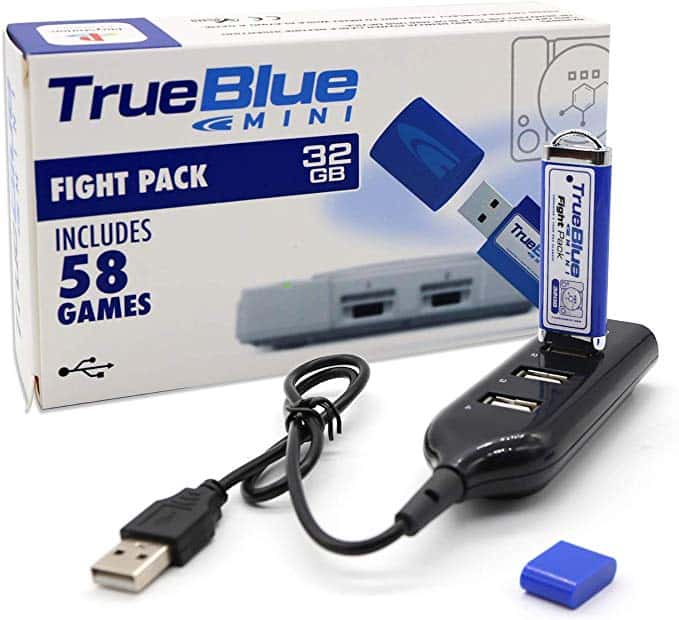 Esta es la lista de Fight Pack:
Battle Arena Toshinden
Battle Arena Toshinden 2
Battle Arena Toshinden 3
Bio F.R.E.A.K.S
Bloody Roar
Bloody Roar II
Bushido Blade
Bushido Blade 2
Criticom – Critical Combat
Darkstalkers – The Night Warriors
Darkstalkers 3
Dead or Alive
Destrega
Digimon Rumble Arena
Dragon Ball Z – Ultimate Battle 22
Fatal Fury Wild Ambition
Guilty Gear
Gundam Battle Assault
Gundam Battle Assault 2
Jojos Bizarre Adventure
K-1 Grand Prix
K-1 Revenge
K-1 The Arena Fighters
King of Fighters 99
Knockout Kings
Knockout Kings 2000
Knockout Kings 2001
Marvel Super Heroes
Marvel vs Capcom
Marvel vs Street Fighter
Mortal Kombat 3
Mortal Kombat 4
Mortal Kombat Trilogy
Pocket Fighter
Primal Rage
Psychic Force
Ready 2 Rumble Boxing
Ready 2 Rumble Boxing – Round 2
Rock-em Sock-em Robots Arena
Samurai Shodown – Warriors Rage
Samurai Shodown III
Soul Blade
Street Fighter Alpha
Street Fighter Alpha 2
Street Fighter Alpha 3
Street Fighter EX 2 Plus
Street Fighter EX Plus Alpha
Tekken
Tekken 2
Tekken 3
Thrill Kill
Ultimate Fighting Championship
War Gods
X-Men – Children of the Atom
X-Men Mutant Academy
X-Men Mutant Academy 2
X-Men vs Street Fighter
Zero Divide
Meth Pack 101 Juegos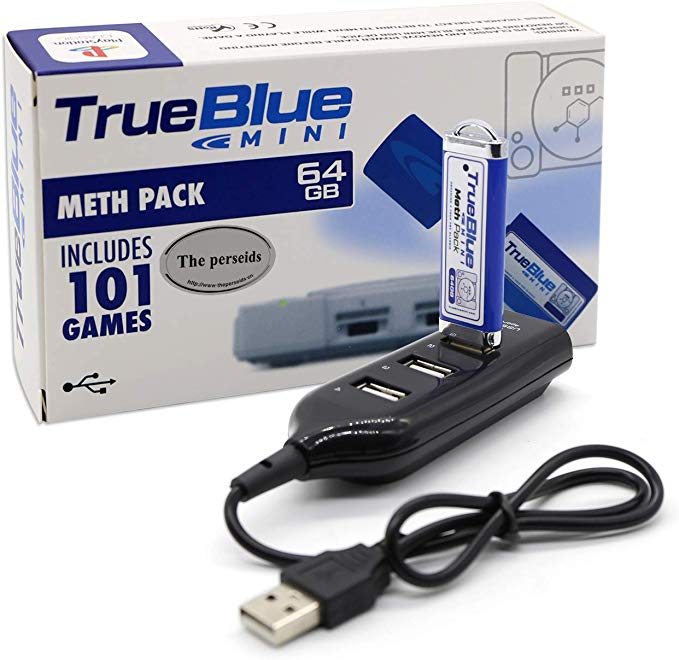 Otra selección de juegos para añadir a Playstation Classic para los que os guste:
Army Men – Sarges Heroes 2
Batman and Robin
Batman Gotham City Racer
Beyond the Beyond
Blade
Blast Chamber
Bomberman Party Edition
Bust a Groove 2
Chocobo Racing
Chrono Cross
Chrono Trigger
Clock Tower
Clock Tower 2 – The Struggle Within
Crash Bash
D
Demolition Racer
Destruction Derby
Destruction Derby 2
Destruction Derby Raw
Devil Dice
Die Hard Trilogy
Die Hard Trilogy 2 – Viva Las Vegas
Dragon Warrior VII
ECW – Hardcore Revolution
ECW Anarchy Rulz
Fear Effect
Front Mission 3
Gallop Racer
Ghost in the shell
Grand Theft Auto
Grand Theft Auto 2
Grandia
Grid Runner
Guilty Gear
Hercs Adventures
Incredible Crisis
Inuyasha – A feudal fairy tale
Irritating Stick
Jackie Chan Stuntmaster
Jet Moto
Jet Moto 2
Jet Moto 3
Jumping Flash! 2
Kings Field
Kings Field II
Lunar – Silver Star Story Complete
Lunar 2 – Eternal Blue Complete
MDK
Medal of Honor
Metal Slug X
Micro Machines V3
Monopoly
Muppet Monster Adventure
Muppet Racemania
Namco Museum Vol.1
Namco Museum Vol.2
Nascar Thunder 2003
Nascar Thunder 2004
NBA Hangtime
NBA Jam Extreme
NBA ShootOut 2000
Nightmare Creatures
Nightmare Creatures II
No One Can Stop Mr Domino
Oddworld – Abes Exoddus
Ogre Battle
Pandemonium 2
Pandemonium!
Parasite Eve
Power Rangers – Lightspeed Rescue
Power Rangers Time Force
Power Spike Pro Beach Volleyball
Qix Neo
R-Type Delta
R-Types
Rampage Through Time
Rampage World Tour
Rascal
RC De Go!
RC Helicopter
RC Revenge
RC Stunt Copter
Rhapsody – A Musical Adventure
Road Rash 3D
Rollcage Stage II
S.C.A.R.S.
Shadow Man
Star Wars – Dark Forces
Test Drive Off-Road
Test Drive Off-Road 2
Test Drive Off-Road 3
TOCA Championship Racing
Tokyo Highway Battle
Tony Hawks Pro Skater 3
Tony Hawks Pro Skater 4
Twisted Metal 3
Twisted Metal 4
Worms
Worms Armageddon
Worms World Party
Yu-Gi-Oh – Forbidden Memories
Weed Pack 99 juegos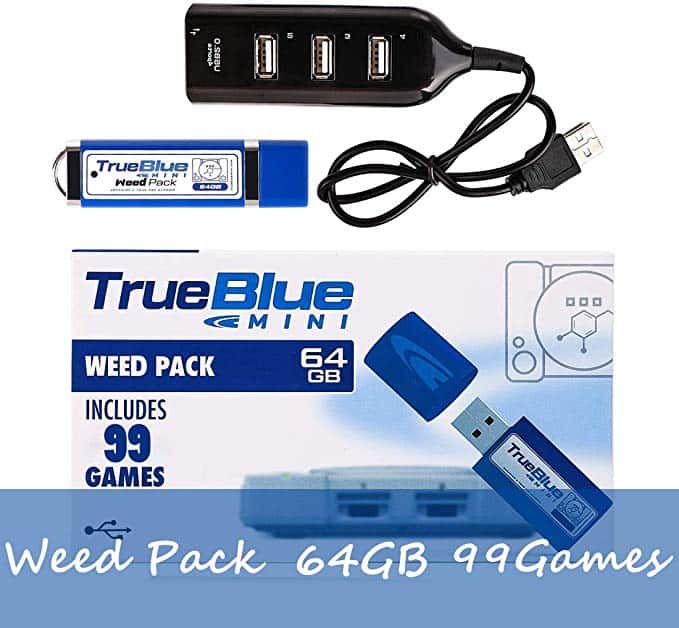 Con este Pack podremos cargar juegos como estos:
A Bugs Life
Alfred Chicken
Alone in the Dark 2
Arc the Lad
Arc the Lad II
Arc the Lad III
Beatmania
Bomberman World
Broken Sword 2
Cabelas Big Game Hunter
Castlevania Chronicles
Championship Motocross
Chessmaster II
Colin McRae Rally 2.0
Colony Wars
Command and Conquer – GDI
Command and Conquer – NOD
Crisis Beat
Croc – Legend of the Gobbos
Dave Mirra Freestyle BMX
Descent
Discworld
Discworld II – Mortality Bites
Doom
Duke Nukem – Time to Kill
Eagle One Harrier Attack
Ehrgeiz – God Bless the Ring
F1 World Grand Prix – 1999 Season
F1 World Grand Prix 2000
Fantastic Four
Final Doom
Fluid
Frogger
G-Police
G. Darius
Galaga Destination Earth
Galaxian 3
Gauntlet Legends
Grand Tour Racing 98
Harry Potter Chamber of Secrets
Harry Potter Sorcerers Stone
Heart of Darkness
Hercules
ISS Pro Evolution
Jinx
Kartia – The Word of Fate
Kula World
Legend of Dragoon
Loaded
Lost Vikings 2
Mat Hoffmans Pro BMX
MechWarrior 2
Medal of Honor – Underground
Mega Man 8
Mega Man X5
Metal Gear Solid – VR Missions
Misadventures of Tron Bonne
NBA Jam T.E.
Need for Speed III – Hot Pursuit
Ninja – Shadow of Darkness
Parodius
Philosoma
Pink Panther – Pinkadelic Pursuit
Pong – The Next Level
Quake II
Rayman 2 – The Great Escape
Rayman Rush
Ridge Racer
Robocod – James Pond II
Rosco McQueen Firefighter Extreme
Saga Frontier 2
Sheep Raider
Sim Theme Park
Spice World
Spider-Man
Spider-Man 2 – Enter Electro
Star Trek – Invasion
Star Wars – Masters of Teras Kasi
Star Wars – The Phantom Menace
Syndicate Wars
Tales of Destiny II
Test Drive 4
Test Drive 5
The Raiden Project
Theme Hospital
Tobal No. 1
Tom Clancys Rainbow Six
Tomb Raider – Chronicles
Tomb Raider – The Last Revelation
Toy Story 2
V-Rally 2 – Need for Speed
Valkyrie Profile
Vigilante 8
Vigilante 8 – 2nd Offense
Warcraft II – The Dark Saga
World Rally Championship Arcade
Worlds Scariest Police Chases
X-COM – Terror from the Deep
X-Com UFO Defense
Tambien hay una recopilación de todos los Packs que incluye los 4 pendrives anteriores y
Pack con todos los juegos disponibles para cargar juegos en Playstation Classic