Actualización: CAMBIAZO FINALIZADO a 25-10-2019
Puedes ver el Mejor Precio actual en los siguientes distribuidores.
También te puede interesar el Cambiazo Media Markt para Death Strading por 49.90€
El nuevo Call Of Duty estará disponible para cambiazo, que tendrá su lanzamiento el 25-10-2019. Call Of Duty: Modern Warfare ya disponible para cambiazo en Media markt.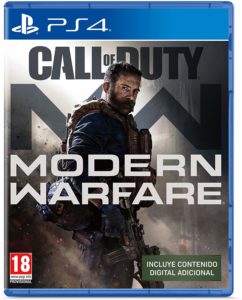 Cambiazo Call Of Duty: Modern Warfare por 49.90€
Podéis comparar los precios con otras plataformas para ver el ahorro que puede ser de hasta 18€ con Cambiazo Call Of Duty: Modern Warfare
Hay otras opciones como la oferta de Amazon por 64.90, pero la diferencia con el cambiazo es de 15€.  O del juego que tengamos que entregar.
Call Of Duty: Modern Warfare el juego
Infinity Ward nos plantea una reinvención desde cero de lamítica serie Modern Warfare, Campaña un jugador increible, y el modo multijugador clásico, formando Grupo o de manera cooperatica en operaciones élite para todo tipo de jugadores.
Trailer de Call Of Duty: Modern Warfare
Dos modalidades de Cambiazo
Entrega a domicilio
Cuando el repartidor te entregue Call Of Duty: Modern Warfare tendrás que entregar tu juego usado.
Recogida en Tienda
Cuando recojas el juego en la tienda que hayas seleccionado deberás entregar el juego usado.
Juegos Válidos para Cambiazo Mediamarkt
Para ambas opciones debes entregar un juego usado de cualquiera de estas plataformas:
PS4
PS3
PSP
Xbox One
Xbox 360
Nintendo Switch
Nintendo DS.
El juego entregado debe estar en perfecto estado, completo (cajas y manuales), funcionar correctamente y ser PAL España.
Se aceptan también juegos físicos que previamente se hayan vendido en bundle con consola u otro producto en los que figure el mensaje de «prohibida su venta por separado» o similar.